Dixon Technologies: Your Local Technical Low Voltage Electrician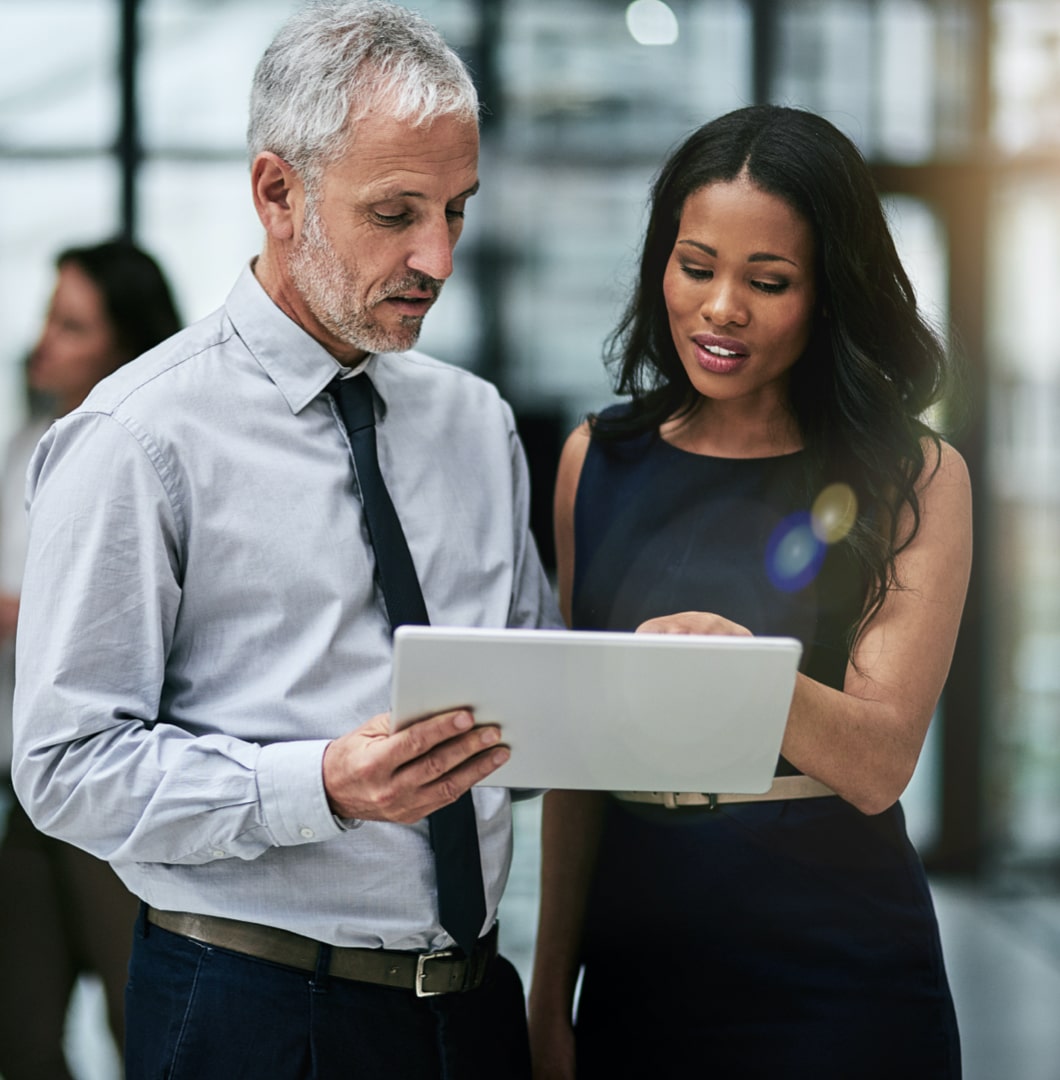 The Easy Choice for Smart Business Owners
What if you had a pro IT technician who was also a low-voltage electrician on staff and available to install or repair your tech as needed? While that might sound great, this situation is simply not possible – or make good business sense – for most small to medium sized organizations. You can try to struggle through your technology issues on your own, rely on a smart employee (who is a great accountant but not a career IT pro or electrician), or resort to a big-name national tech company that may send out a brand new graduate to work on the precious network your organization relies on.
Fortunately, there's a better option: you can contact Dixon Technologies, your trusted and experienced local Melbourne, FL tech team. When you add us as your IT partner, you'll feel the relief that comes with offloading time-consuming and often confusing technical and low voltage electrical work to a technician that knows how to get the job done and has the skills to actually do it.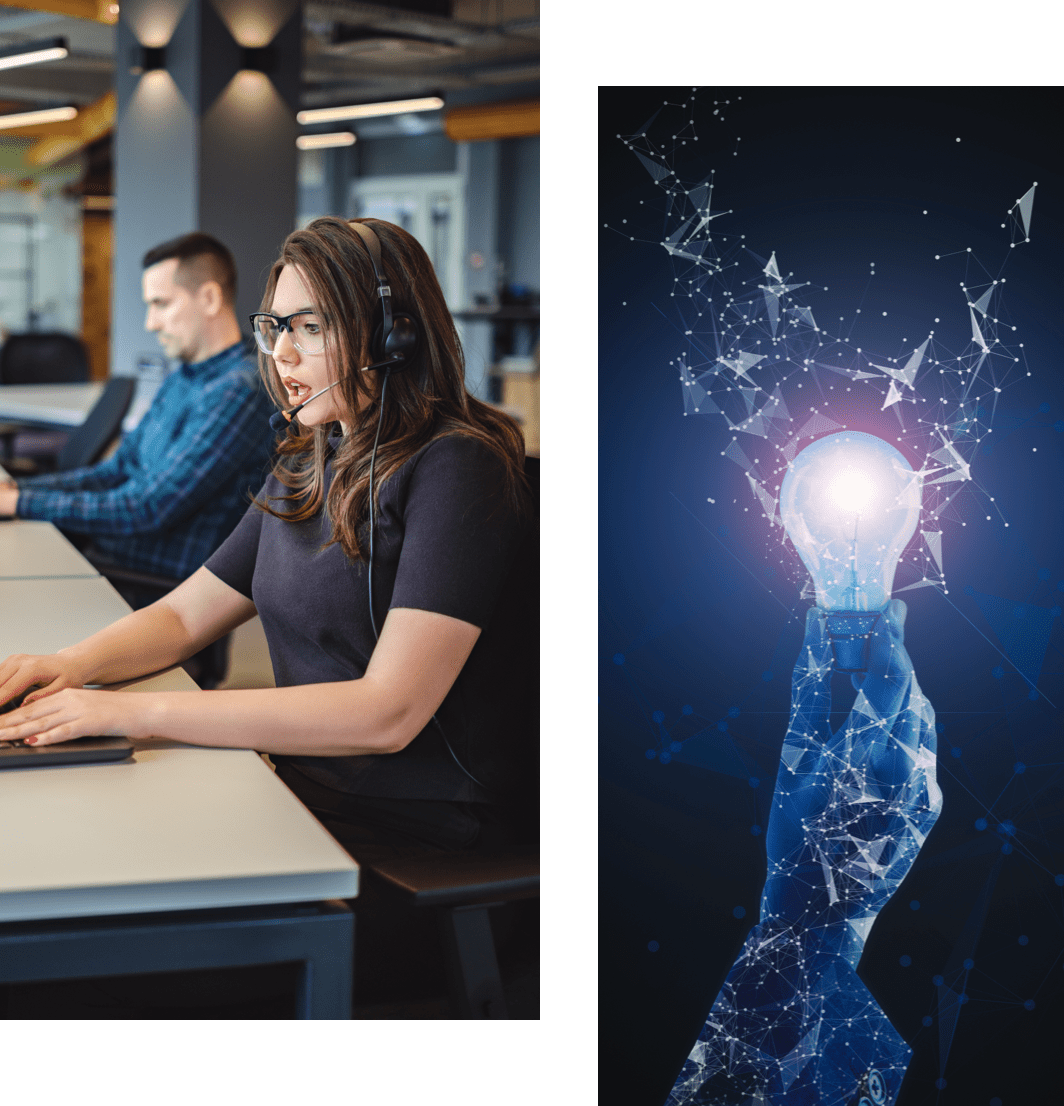 The Next Best Thing to Having More Hours in Your Day
How many times have you wondered how much more successful your business would be if there were just more hours in the day? Dixon Technologies can't add time to your clock, but we can free up those precious hours you would otherwise spend dealing with IT problems. By taking back some of your time, you can spend it in productive ways that are much more important to your business than running electrical wiring, installing new equipment, or updating software.
Nothing is more frustrating than losing valuable working hours due to a network going down. Properly structured and maintained network, audio and video, and computer systems are stronger and faster, meaning more uptime and less downtime for you and your employees. Taking action to build a better technological environment today by calling Dixon Technologies to implement and maintain your network can improve employee morale and productivity, making for a smoother – and more profitable – business operation.
Tried and True Tech in Melbourne, FL
Dixon Technologies provides the IT specialty service and low voltage electrical work Melbourne area businesses can rely on, from small jobs to large-scale deployments. Search through our reviews and get an idea of how our skills can help make your business more successful by taking on all your technology-related low voltage electrician needs.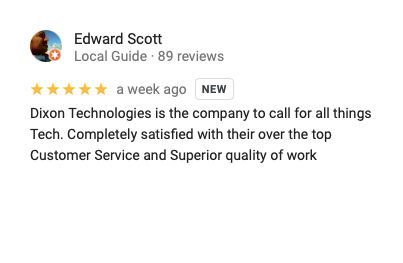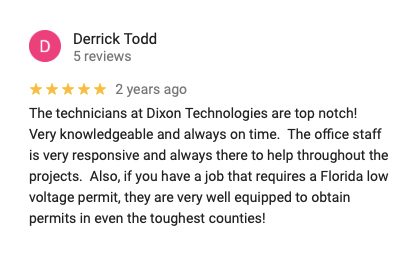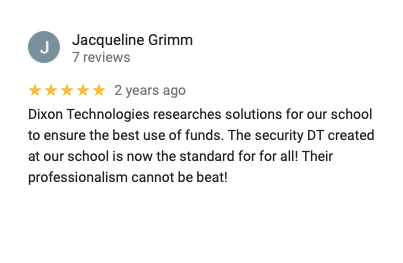 Dixon Technologies Advanced IT Solutions and Services
Businesses in the Melbourne, FL area have come to count on the quality work that the IT experts and low voltage electrician team from Dixon Technologies provides. With our range of skills, training, and depth of experience, we've got what you need to get the job done right the first time. From electrical install and wiring work to PC systems set up and repair jobs, we will proudly meet your requirements and exceed your expectations, keeping your business up and running.
Low Voltage Electrician Services in Melbourne, FL
When you need a technical low voltage electrician with the skills and experience to get – or keep – your IT systems, phone and camera equipment, and other technology requirements running smoothly, Dixon Technologies is the team for the job. With a single phone call, you can have access to your new IT department with the low-voltage electrician skills to handle it all.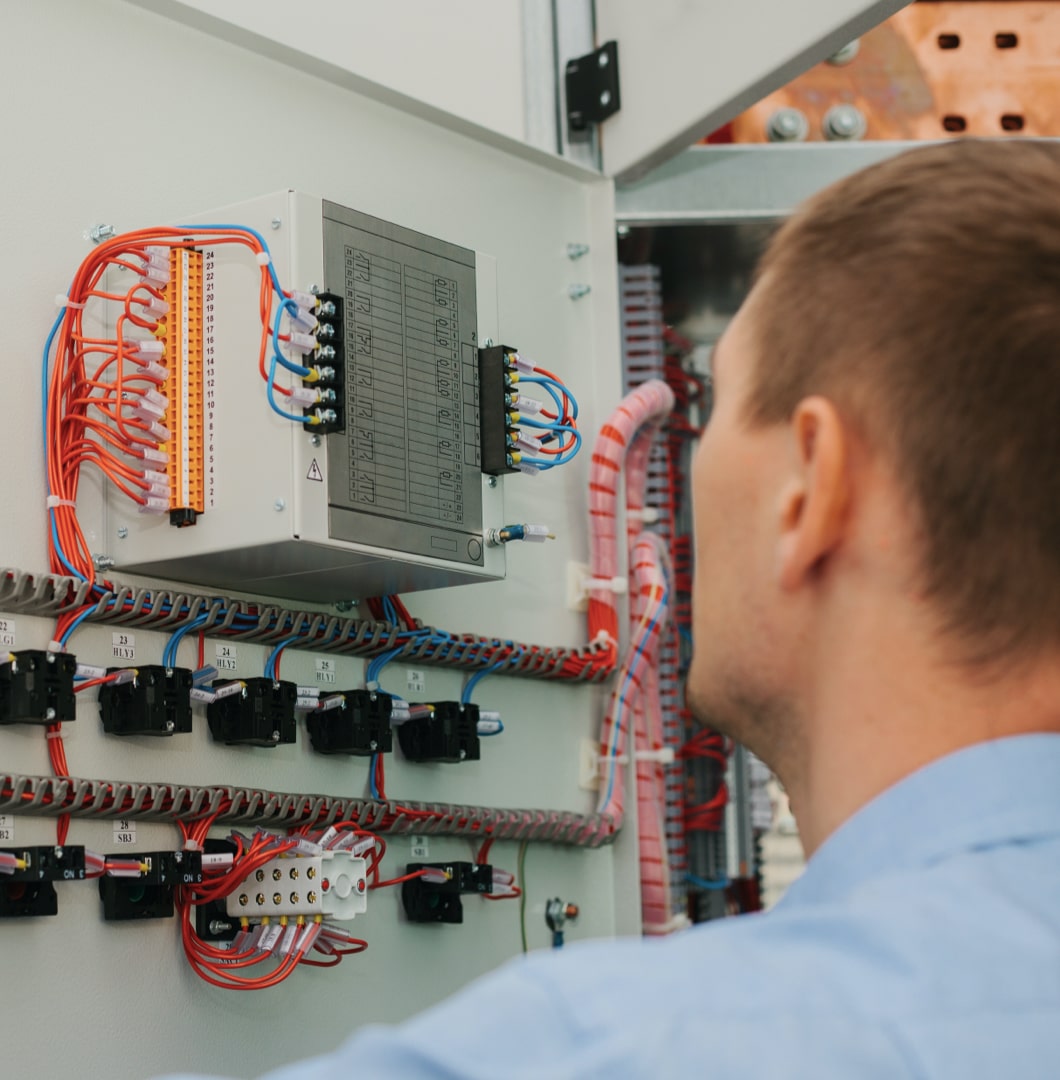 Dixon Technologies: IT Pros and Electricians in Your Neighborhood
When it comes to your IT company search, you don't want to hand over the reins of your network to just anyone. You want to make sure it's someone with the right skills, experience, and specialized training in both cutting edge technology advances and low voltage electrical systems. The career IT specialists and low voltage electricians at Dixon Technologies have decades of training and job experience. We help turn tech to-do lists into strategic advantages for Melbourne, FL area businesses.
Choosing Dixon Technologies makes implementing and maintaining your technology easier because we are both IT professionals and low voltage electricians. This means as low voltage electricians we can both help you choose and install the hardware part of your technological equipment, and perform the software installation, updates, maintenance, troubleshooting, repair and management of those systems on the IT side of things. With the range of skills at Dixon Technologies, you get a one-stop solution for both IT and low voltage electrician services for all your tech-related needs.
Our clients enjoy working with us not just because we are a local, family-owned business, but also because of our responsive service and repair team, quality equipment, and customized service plans. The responsive and friendly staff at Dixon Technologies focus on long-term solutions, not quick fix jobs (although we like solutions that are both!) and we pride ourselves on delivering the highest quality work at fair prices. When you experience what it's like working with us, you'll see why companies end their search for quality IT services and low voltage electricians with Dixon Technologies.
Partnering with Dixon Technologies: Expect Success
It's easy to get started with Dixon Technologies as your new go-to technical electrician team. When you contact us, we'll take the time to get to know you, your business and technological goals, and your most pressing current needs. We'll then create a customized service plan that delivers to the letter on your requirements. You may only need an audio and video equipment installation or repair job at first, and we're happy to get the job done for you. Your business may also call for a whole suite of IT and low voltage electrical requirements; in that case, Dixon Technologies can provide the full range of technology and electrician services you need. Just give us a call and get started with a free consultation.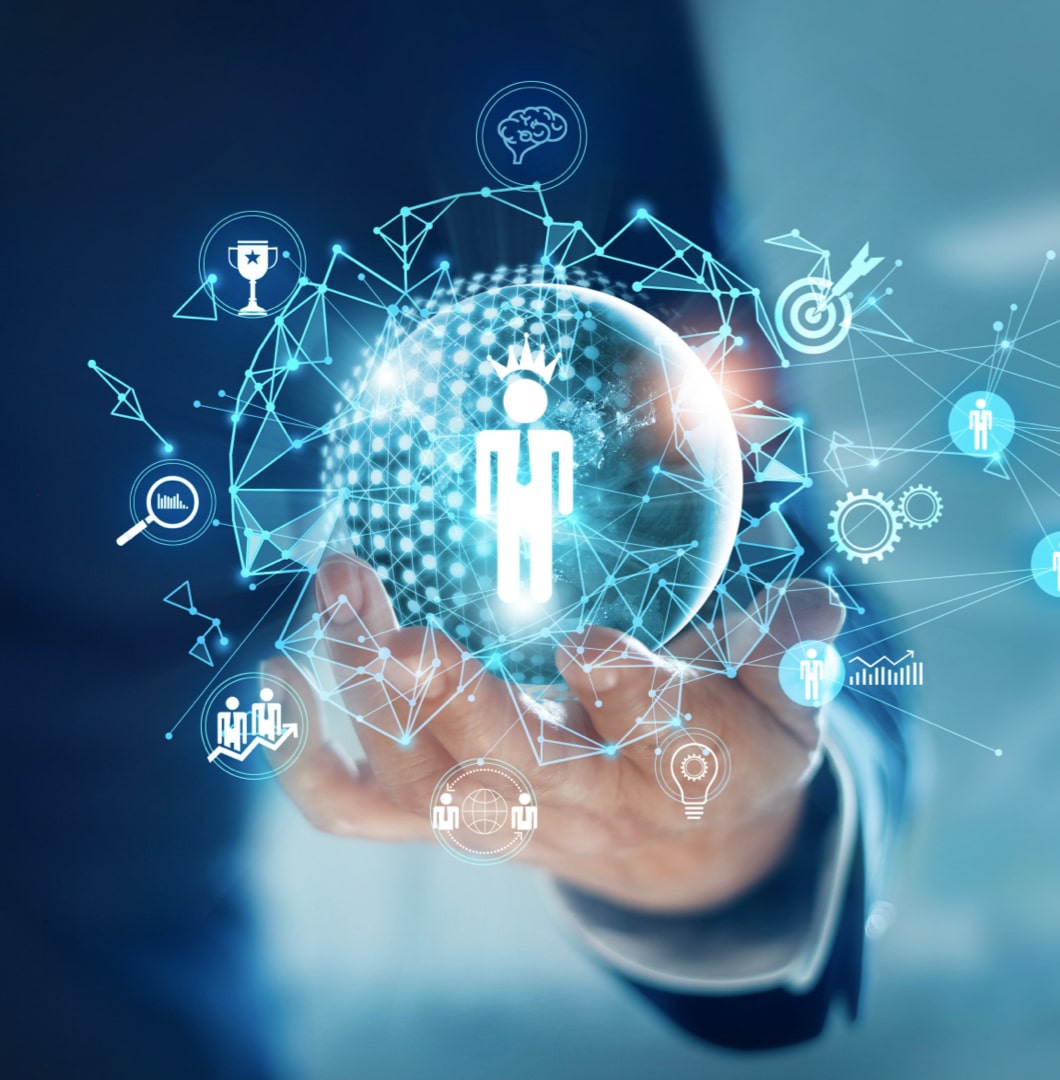 Your IT and Low Voltage Tech Ally in Melbourne, FL
As any good manager or business owner knows, it's more productive to focus on your strengths – what you do well – and outsource the rest. Choosing to add Dixon Technologies to your team allows you to do just that. It probably doesn't make sense to hire and pay the salary for a full-time employee to handle all your IT work and low-voltage electrical system jobs, so do your business and your budget a solid. Call Dixon Technologies today and let us help you spend less time dealing with technical issues and more time building your business.